Kiosk Manufacturer Association About
The Kiosk Manufacturer Association or KMA is a global organization focused on best-in-class self-service technology for all customers and employees. The Kiosk Manufacturer Association focuses on ADA, Accessibility and EMV in the legislative arena. Over 30 sponsors representing largest kiosk providers comprise the KMA. We are funded by those companies for the benefit of developers, resources and client companies interested in self-service, kiosks, digital signage, thin client, internet terminals and POS self-order systems. We are based in Denver, CO, US. Visit us at https://kma.global or https://kioskindustry.org
The kioskindustry website promotes the general industry via news and information and we have been doing this since 1995.
We work with multiple organizations and are a dues-paying member of the National Retail Federation.  We currently exhibit and participate at the NRF Big Show in New York Javits Center every year and the NRA tradeshow in Chicago. We are based in Denver, CO, US.
Kiosk Regulatory Advocacy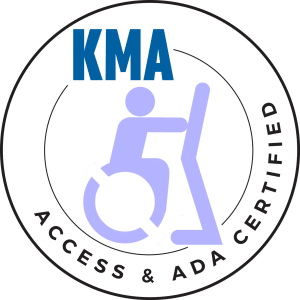 Members of KMA have a strong interest in standards like ADA, EMV, HIPAA, UL, and many more.  We have an ADA committee with an ADA Working Group and we work towards being a standards-based association. We meet and communicate with the U.S. Access Board in Washington annually and review all types of the newest accessibility devices.
Our initial mission is to:
Clarify the many existing published standards, both U.S. and International as they pertain to self-service. We also help provide a self-service framework for new accessibility options such as Voice Command.
ADA and Accessibility
Our Accessibility and ADA working group has five components/audiences.
Our +30 main sponsors who provide hardware, software and services to the self-service market. Includes kiosk manufacturers, software and application companies and more.

Accessibility and ADA Committee – 12 members

Members and market participant listing – 400 members

On the Deployer side we have over 40 participants. Companies such as Tommy Hilfiger, YUM Foods, Apple, Whole Foods and the New York Mets paticipate and provide a sounding board for us to get perspective on accessibility. If you are deployer and are available to participate contact Craig Keefner, Manager of KMA.

We also post our Accessibility and ADA related information to multiple professional LinkedIn Groups such as Healthcare, Retail, Financial, Transportation, Fast Food, Telehealth and more with total audience of over 1.5 million.
Accessibility and ADA Committee:
Accessibility and ADA Chairpersons
Randy Amundson of Frank Mayer and Associates, Inc. and Peter Jarvis of Storm Interface serve as our current Chairpersons.
Photograph from 2018 prior meeting in Washington, D.C..
Accessibility and ADA Information Participants
The KMA works with all forms of companies, associations, city, state and federal agencies when it considers ADA and accessibility.  We may get direct input, review or we may solicit their point of view and input.
Participants include (in no particular order):
United States Access Board
Storm Interface
Olea Kiosks, Inc.
Frank Mayer and Associates, Inc.
KIOSK Information Systems [KIOSK]
Pyramid Computers
KioWare
DynaTouch
Tech For All Consulting
Vispero
MimoMonitors
PROVISIO (Sitekiosk)
The Paciello Group
NCR Dundee (Phil)
University of Maryland (Bern)
RNIB
Tommy Hilfiger
New York Mets
VMware (

Sheri Byrne-Haber)

YUM Foods
EMV Credit Card Regulations
The KMA is putting together committee to produce a Code of Practice regarding EMV in Self-Service. This includes attended, unattended and "semi-attended".
EMV Committee
UCP Unattended Payments
DCAP Systems
Ingenico
Self Service Networks
Olea Kiosks
EMV Participants
If you wish to participate in some capacity with our EMV Initiative please contact one of our sponsors on the EMV Committee or send an email to [email protected]