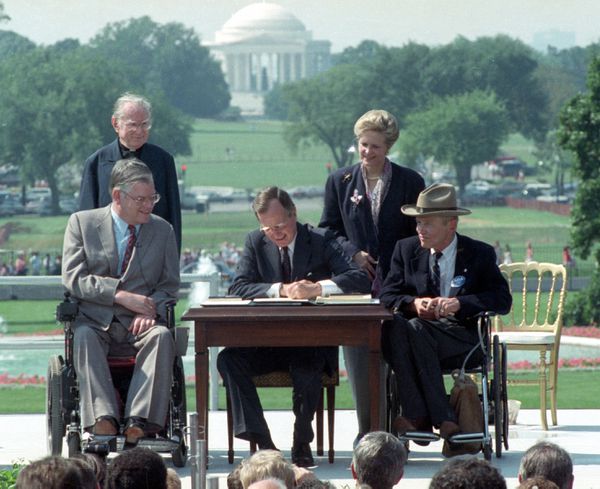 2020 marks the 30th anniversary of President George H.W. Bush signing the Americans with Disabilities Act into law. Throughout this 30th anniversary year, the Division is publishing a monthly blog post highlighting the impact that recent ADA enforcement efforts have made in people's everyday lives. We celebrate the many ways in which the ADA has transformed American society and enabled a generation of Americans with disabilities to thrive.
United States v. Lanier Technical College
Mary Queen is a mother, a wife, a daughter, a teacher, a community volunteer worker, and a decorated paramedic, among other things. She has taught first aide to a Girl Scouts troop, spent time volunteering in a nursing home, and received multiple commendations for saving people's lives in her work as a paramedic. In 2013, Ms. Queen was nominated as the sole representative from her region for Georgia Paramedic of the Year, having been selected from among hundreds of paramedics and EMTs in her region. Georgia Paramedic of the Year is awarded annually to a paramedic or EMT who has made significant contributions to emergency medical services and gone above-and-beyond the call of duty. Ms. Queen was a runner-up for the statewide award.
From her own telling of it, Ms. Queen did all of this not in spite of her multiple sclerosis (MS), but because of it. In January 2011, while sitting at the fire station waiting for the next emergency call to come in, Ms. Queen got a call from her neurologist telling her she has MS. She was 25-years-old. "Every day since has been a struggle and a fight," says Ms. Queen. She is quick to add, "My MS has become my inspiration and the reason I get up every morning to help others."
From 2009-2012, in addition to working as a full-time paramedic, Ms. Queen worked evening shifts as a part-time EMT lab assistant at Lanier Technical College, a unit of the Technical College System of Georgia. She loved teaching and hoped to someday become a full-time instructor. One former colleague described Ms. Queen as a "superstar" lab assistant whom "students loved." But after Ms. Queen took three days of sick leave due to her MS, the college removed her from the teaching schedule for an entire school semester, thus reducing her hours and pay to zero. As alleged by the Justice Department in a complaint filed in federal district court in November 2019, the college's actions effectively terminated Ms. Queen's employment on the basis of her disability, in violation of Title I of the ADA.
Ms. Queen acknowledges that she has been through a lot of challenges in her life. She discusses most of them very matter-of-factly. But she still tears up when she discusses her termination from Lanier, and her phone call with her program director and former instructor in which he made her feel incompetent because of her disability.
Read full story January blog entry