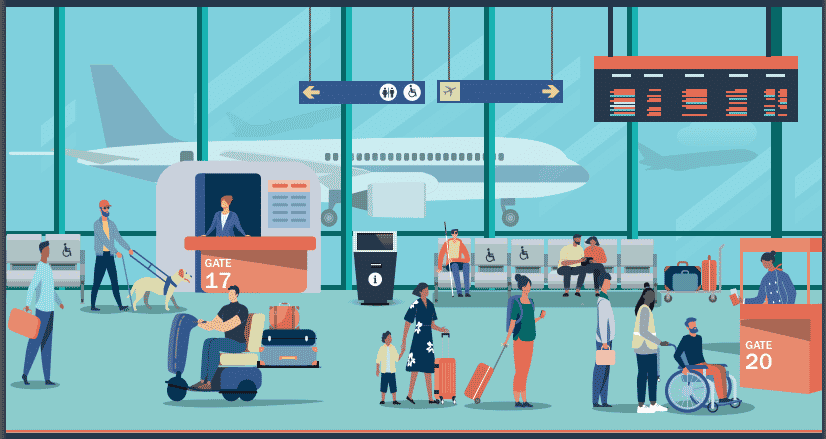 Airlines Bill Of Rights Department of Transportation
This Bill of Rights describes the fundamental rights of air travelers with disabilities under the Air Carrier Access Act and its implementing regulation, 14 Code of Federal Regulations (CFR) Part 382.  For more information email [email protected]
The Bill of Rights consists of:
The Right to Be Treated with Dignity and Respect.
The Right to Receive Information About Services and Aircraft Capabilities and Limitations.
The Right to Receive Information in an Accessible Format.
The Right to Accessible Airport Facilities.
The Right to Assistance at Airports.
The Right to Assistance on the Aircraft.
The Right to Travel with an Assistive Device or Service Animal.
The Right to Receive Seating Accommodations.
The Right to Accessible Aircraft Features.
The Right to Resolution of a Disability-Related Issue.
Click on any of the rights above to be linked to an explanation of that right in this document. The Bill of Rights does not expand or restrict the rights of air travelers with disabilities. Rather, it provides a convenient summary of existing law. Because the explanations in this document may not be as precise as the regulations themselves, the explanations link to the actual regulatory text for your reference.
The full pdf is located here.
Comments
By Craig Keefner (ex-programmer for Northwest Airlines)
I remember back in early 2000s there were several incidents regarding passengers suffering due to airline mishaps. Being stranded on the tarmac for 10 hours.  NWA (later bought by Delta) instituted a bill of rights for passengers back then called Customers First. You can still view it out on the Wayback Machine. Worth noting that Delta has an Accessibility page geared towards usage of website. Delta even has a Advisory Board on Disabilities. Doing a Fast Pass with Edge on accessibility of the Delta homepage yields double-digit failed instances which is surprising.  Maybe there is some differential between the WCAG engines.
By Sheri Byrne-Haber (disabled) on LinkedIn
I am thrilled that the US Department of Transportation has published an "Airline Passengers with Disabilities Bill of Rights." It is way past time something like this existed since airlines have repeatedly indicated through their actions that they don't particularly care about their customers with disabilities, though they are happy to take our money and claim they care about us when something negative happens
There are a few things that I am definitely not thrilled about. This post is going to address the gender and race bias that appears in the cover image.
1) The only Black-appearing individual on the cover image is a female-appearing person in a safety vest pushing a wheelchair being used by a White-appearing male.
2) All the service staff appear to be women
3) All the people with visible disabilities appear to be male.
Seriously, it never ceases to amaze me that in this modern era that people continually have to bring stuff like this up *after* something is published. There is exactly one way to prevent this, and it is actually quite easy.
Have as many underrepresented groups as possible review the document in advance of publication and LISTEN to what they have to say.
Pete Buttigieg – you can do better than this!
More Posts