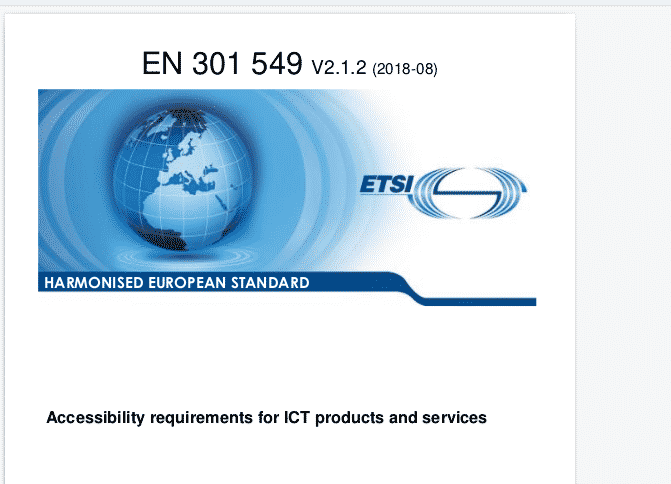 Update for Europe ADA
New draft changes went in 3/19/2021 – release is imminent of 1.1.2 updated. We thought it a good time to bring this back into focus for the self-service community.
What is Europe ADA
EN 301 549 "Accessibility requirements suitable for public procurement of ICT products and services in Europe"
Where are the documents for EN 301-549
They are managed at ETSI
Are they the same as US ADA?
They share some identical influences such as WCAG but they are not the same. One of the goals of the U.S. Access Board is to "harmonize" the disparate standards into one standard. The European standards are generally described as more descriptive in effect (detailed outcomes and fuzzy requirements). The US standards tend to be more prescriptive with detailed requirements and fuzzy outcomes.
What Does EN 301-549 Say About Braille?
Not very much actually. It is included in the definition of assistive technology — assistive technology: hardware or software added to or connected to a system that increases accessibility for an individual NOTE 1: Examples are Braille displays, screen readers, screen magnification software and eye tracking devices that
are added to the ICT.
Do European Standards Specifically Mention "Kiosks"
Yes. In one sentence in definitions.  Information and Communication Technology (ICT): technology, equipment, or interconnected system or subsystem
of equipment for which the principal function is the creation, conversion, duplication, automatic acquisition, storage, analysis, evaluation, manipulation, management, movement, control, display, switching, interchange, transmission, reception, or broadcast of data or information NOTE: Examples of ICT are web pages, electronic content, telecommunications products, computers and ancillary equipment, software including mobile applications, information kiosks and transaction machines, videos, IT services, and multifunction office machines which copy, scan, and fax documents.
Do European Standards Specifically Mention "ATM"
No.
Do European Standards Specifically Mention "POS or Point of Sale or EMV or PCI"
No, however, they do have a section for Receipts and Transactions which has requirements.  It seems pretty clear that speech output is required to verify the transaction.
Additional Related Europe ADA Kiosks Information