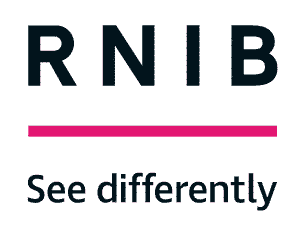 From the RNIB
As lockdown begins to ease, we want to support your staff in helping customers in by offering some simple guidance.
This will not only support your customers with sight loss but help to dramatically improve the overall customer experience.
Helping blind and partially sighted customers
As businesses begin to reopen, providing up-to-date information about any provisions being put in place to protect staff and customers is so important. It is essential to share what physical changes you are making within the store. These changes could include floor indicators, payment zone protective screens, temporary signage, priority opening times and changes to store layouts/one-way systems. Not everyone will be able to see these changes.
Our Best Practice Guidelines
We have created some best practice guidelines to help retail businesses understand how they can help their blind and partially sighted customers with these changes.
For more information read our key principles for supporting blind and partially sighted customers.
You can also contact us at [email protected] for further help or advice.
How to feel confident interacting with a blind or partially sighted customer
Here are a few quick tips to help you feel confident in interacting with customers with sight loss during this time.